We are open for business!  Let us know if we can help you with any of your hearth projects whether new construction or a remodel.  Also, while the weather is warmer now is the time to think about scheduling maintenance of your gas fireplace or stove.  If you are a "DIY'r" we have supplies that can help.  Stay healthy and safe!  Let's all welcome Summer to Sandpoint!
Come visit our showroom - All new 2020 approved freestanding stoves on display now.  We are located at located at 78 McNearney Rd., Ponderay, ID along the East side of the park directly behind the Panhandle Animal Shelter.
Q #1 - How can I tell if the combustor is working? - Take a look at what's coming out of your chimney. If it is working you'll see some white vapor that dissipates quickly, and little or no gray/brown smoke.
Q #2 - What does the catalytic combustor do? - It burns smoke by cutting in half the temperature at which the smoke will ignite. This can generate 50% more useful heat while reducing pollutants up to 90% or more.
BLAZE KING – From the very beginning in 1977, Blaze King has focused on one simple idea: design super efficient, eco-friendly hearth products, and build them to last. Their growing selection of wood and gas burning freestanding stoves, and inserts are a tribute to good old-fashioned values like quality and safety. Blaze King wood stoves far exceed EPA requirements and provide extremely long burn times and phenomenal heat production. That means you spend less time, money, and effort chopping, hauling, stacking, moving, and loading wood for your stove. It also means less ash. Gas or wood, Blaze King backs all of their hearth products with the most comprehensive warranty in the business. We match that warranty with friendly service and knowledgeable expertise. Find out more about our Blaze King products here at Blazeking.com.
LOPI – In 1977, Kurt Rumens first began selling stoves to supplement his income as a rock musician. Soon, some retailers started suggesting product improvements so he drafted sketches incorporating his best ideas and submitted them back to his manufacturer. He quickly received a terse letter telling him to stick to selling and not product development; but recognizing the importance of aesthetics and efficiency in hearth design, he used the feedback as the foundation for his own hearth-products company. So in 1979, he created what is now known as Lopi. The next year, Lopi pioneered the now standardized use of clear ceramic glass and a pre-heated air wash system within wood stoves to keep the fire viewing area clean. In 1984, Lopi became the first U.S. hearth products manufacturer to develop an EPA-certified, non-catalytic wood stove. Today, Lopi is the brand now known for its American classic style of innovation into its high-performance wood, gas and pellet burning stoves, fireplaces and inserts. Find out more about our Lopi products here at Lopistoves.com.
FIREPLACE XTRORDINAIR – In 1992, Travis Industries acquired Fireplace Xtrordinair, a brand that quickly emerged as the elite line of gas fireplaces and inserts. Today, Fireplace Xtrordinair is now referred to as FireplaceX and is well known for their premium quality gas fireplaces, gas inserts, wood fireplaces and wood inserts that offer a wide variety of custom-crafted styles with unique detailing. With a reputation for innovative design, excellent craftsmanship and energy efficiency, more than a million customers have chosen FireplaceX for their homes across North America. Find out more about our FireplaceX products here  Fireplacex.com.
DAVINCI – In 2014, DaVinci Custom Fireplaces was introduced as a new brand in the House of Fire lineup. The DaVinci brand was quickly recognized as the most unique and innovative custom fireplaces ever made, winning the coveted Vesta Award for Best New Gas Fireplace at the 2014 HPBExpo. These custom, made-to-order fireplaces solve all building and installation inefficiencies and offer the very best of design, innovation and functionality in the custom fireplace world. With DaVinci, there are no design limitations. Find out more about DaVinci Custom Fireplaces here at Davincifireplace.com.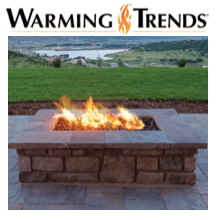 WARMING TRENDS – Innovation. Design. Performance. The CROSSFIRE Brass Burner by Warming Trends is a distinctive fire pit burner that utilizes cutting-edge technology to produce a taller, brighter, fuller flame. Leading the industry with a highly-engineered, precision product, Warming Trends is the original and only manufacturer of the CROSSFIRE Brass Burner, made in the USA and backed with a lifetime warranty. Whatever your vision, we can bring it to life. Warming Trends custom brass burner designs are made to fit the requirements, needs and style of each project. We take your project as seriously as you do and work one-on-one with each client, getting to know your needs and making changes until your vision is a reality. Find out more about our Crossfire brass burners here at  Warming-trends.com.
BLAZE GRILLS – People who purchase Blaze grilling products will see that we stand behind our word. We make our products to withstand the test of time, and we back them with a lifetime warranty. We love to grill! Even more, we love the environment of togetherness that a grill and an outdoor living area seems to instantly create. That is why our grills are engineered to be the best in the business but affordable to everyone at the same time. We want to help grow the outdoor living movement so that everyone who wants to experience it can. We didn't start Blaze Grills to simply be a business. We started this company because grilling and outdoor living is a passion that we all share. The same passion that we bring to the company is transferred to our customers through every product that we deliver. Find out more about our Blaze Grill product line here at Blazegrills.com.
TEMPEST TORCH – In 2007, the Tempest Torch line of gas torches is launched and awarded the Best-in-Show Vesta Award honoring design, innovation and technology within the Hearth, Patio and Barbeque Industry. The Tempest Torch breaks the barriers of standard torch design, featuring a spinning, spiral-like flame for a dramatic presentation of dancing fire. With the Tempest Torch, the display possibilities are nearly endless, as it can be featured virtually anywhere outside, from decks, patios, walkways, entertainment spaces, pools, businesses or storefronts, and even on exterior walls. Find out more about our Tempest Torch products here at Tempesttorch.com.
MONDAY – FRIDAY
8:00am – 5:00pm

SATURDAY – By Appointment Only
SUNDAY – We Are Closed
PHONE – 208.263.1541
E-MAIL – StoveCorral@outlook.com
LOCATION – 78 McNearney Rd. – Ponderay, ID. 83852